Sicily.
I knew very little about this island right off the coast of Italy.
Nine hours later...
I knew I wanted to come back.
Sicily felt like home.
Although my home looks nothing like Sicily.
Something about the community.
The warmth.
It felt familiar.
We boarded a bus and let our tour guide lull us into an education about the island as we traced around the shoreline.
Her knowledge reminded me of my art history classes again.
Not the boring classes where the professor rattles off numerical facts from slide to slide while your mind slowly starts to shutdown.
No.
More like the professors who have seen the artwork...been to the places they are showing you.
Everything has a personal story.
You sit on the edge of your auditorium seat and feel like you're participating in a conversation instead of a lecture.
Yes.
That is what it felt like.
Her words for the island of Sicily made me
love it there.
When we finally made it to the base of our journey I simply looked up in awe.
Mt. Etna.
Europe's tallest active Volcano.
One of the most active volcanoes in the world.
There she stood.
And we were going to climb our way to the top.
And when we got to the top.
Woah.
What a view.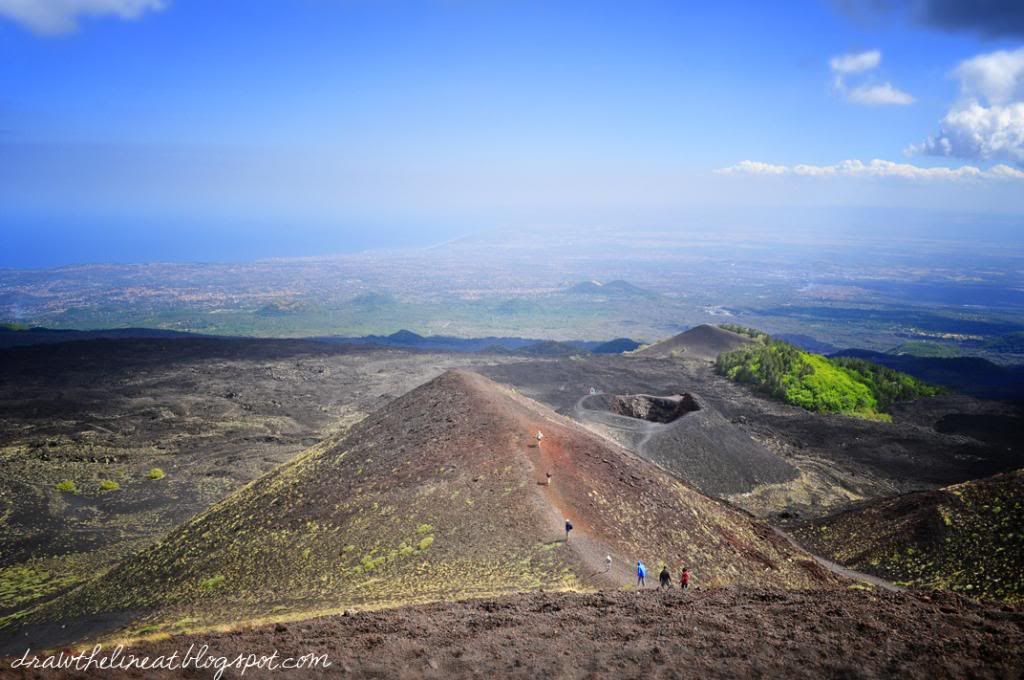 They said we came on the perfect day.
You could see the coast clearly.
You could see the summit.
Sicily became my adventure that day.
Sicily taught me a few things:
- there are two types of "Fire from Mt. Etna"...the kind that went down my throat burned like a melted fireball candy
- cannoli originated here...cannoli thus got eaten here
- honey has more than just the flavor we know of here
- generally the temperature is a lot colder at the top of a volcano than at the base...dress accordingly
- lava rocks are lucky...and they are totally okay with you taking some with you for your journey home.