I opened up my cabinets this week and pulled out my liquid watercolors.
These have not seen the light of day since May.
Somewhere in my rush to get ready for school I forgot to bring these out and freshen them up.
To my surprise though, when I pulled them out this week, most were still going strong.
This is how I store my paints.
Sets of 6 in each color.
Stacked on trays.
Tucked away in a dark corner of a cabinet.
A few of them were running a little low.
So I decided to get out the supplies needed to revitalize the colors.
I bought these back in May of 2011.
I am pleasantly surprised to see how long they have lasted.
Too see prices and retailer check out
my supply
page.
If you don't have liquid watercolors I highly suggest you get some.
The colors are vivid and bright.
And there are no crusty caked on colors that can appear with watercolor trays.
Thank goodness!
I bought these utility cups and lids for a relatively cheap price from SAX (
my supplies
).
Simply add a few drops (or more) of liquid watercolor and some water till you reach the color concentrate of your liking.
Simple and quick.
Put the lid back on and you are ready to go.
--update--
Katie asked a great question about the paints spilling.
I forgot to mention, I load the paints (cup and all) into these type of trays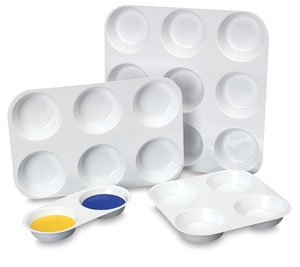 It makes the passing out of paints easier.
Plus it makes it harder to spill.